Latest news from Westknives.
18/11 – 2021
My chef knife "Blue Moon" has been awarded as "Best Chef Knife" in Damasteel Chef Invitational – online knifeshow.
Thank you to all the makers voting for this knife. It is a great honor.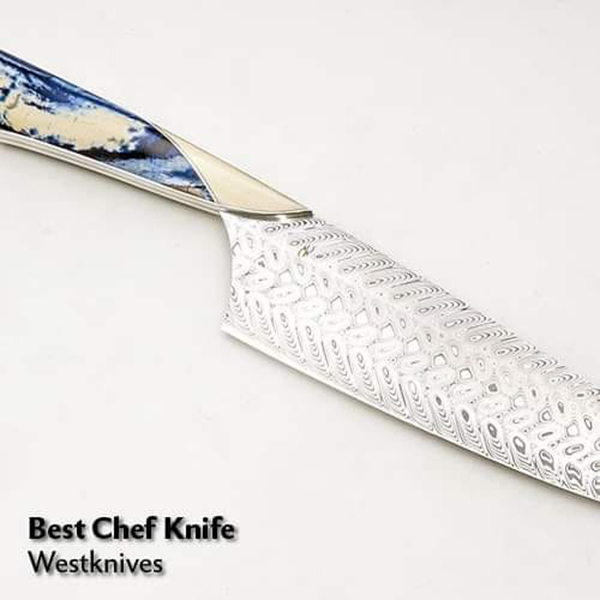 01/09 – 2020
My chef knife "Mmmoth Chef" has been chosen as "Damasteel Knife of the month"  in August.
Thank you Damasteel. It is a great honor.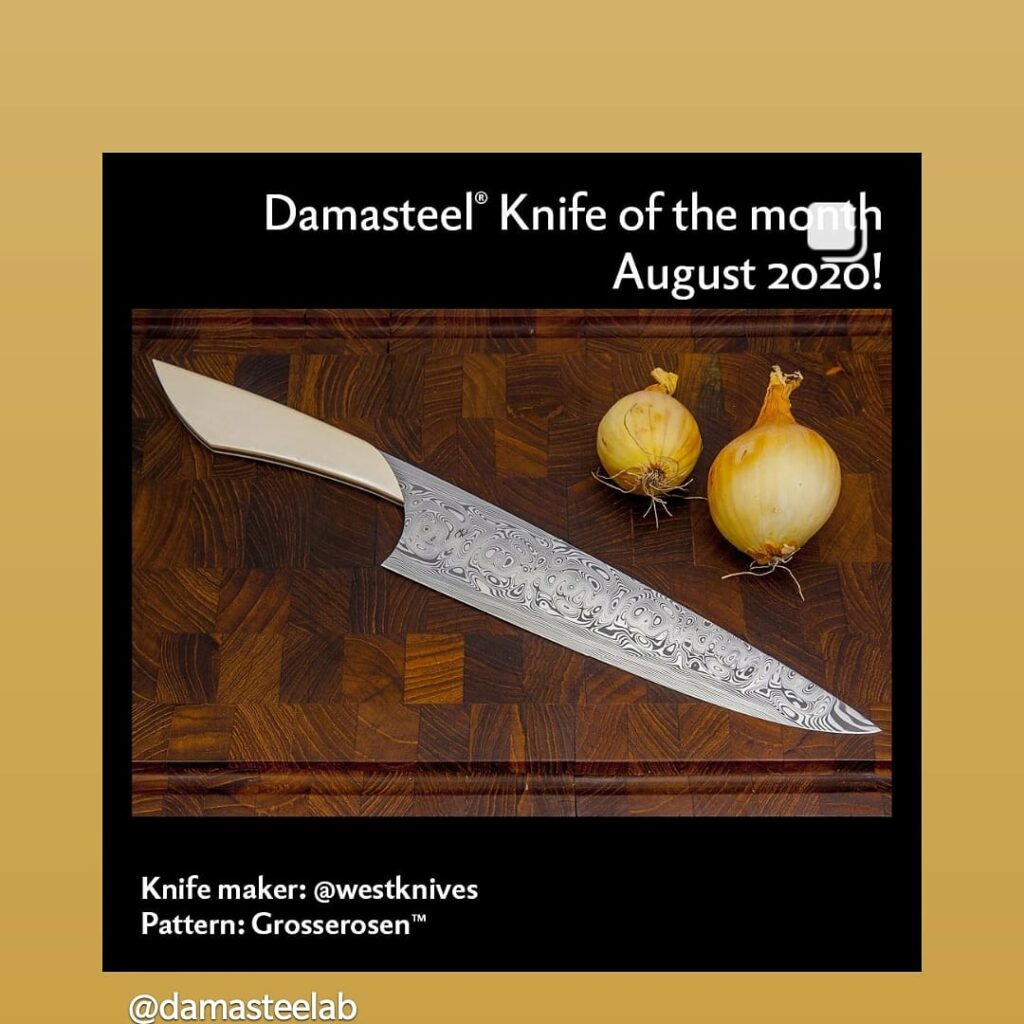 24/05 – 2020
My knife "Blue Dagger" has been chosen as "Damasteel of the Month" in April.
Thank you to the folks in Sweden for making this fantastic steel.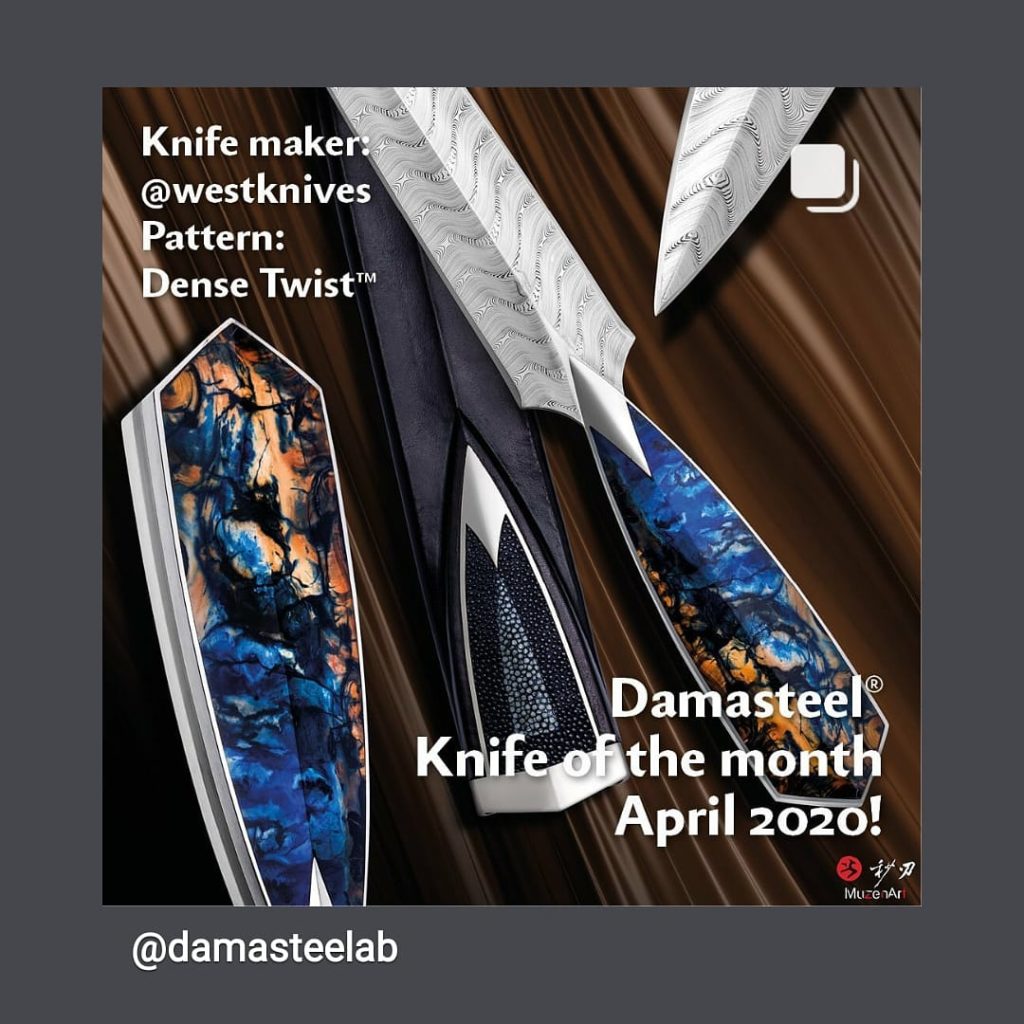 09/06 – 2019
Congratulation to the winner of my "40 years of knifemaking anniversary" – GiveAway
Winner was drawn at 12 noon sunday at Bladeshow.
Luckily the winner  live nearby so we could meet in real world.
Congratulation with you new Westknives "Coral"
Next GiveAway will be in conjunction with the "Ficx" show in paris.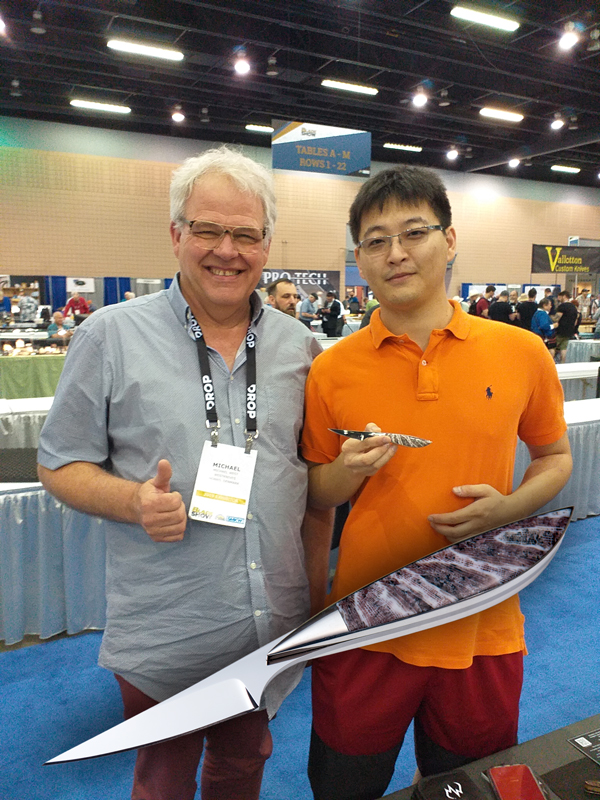 17/01 – 2019
Finaly recieved my copy of "The worlds greatest knifebook" Knives 2019
Not only has my silverframe mammoth knife "Explosion" found the cover, but also the "Blue Bowie" is displayed at page 80.
You now have the oppotunity to get hands on this mindblowing Bowieknife as it is up for sale. SOLD
A total different approach in Rwl 34, Argentium® silver and blue mammoth molar.
Have a look in the Available section.
Contact me for more information about this extraordinary knife.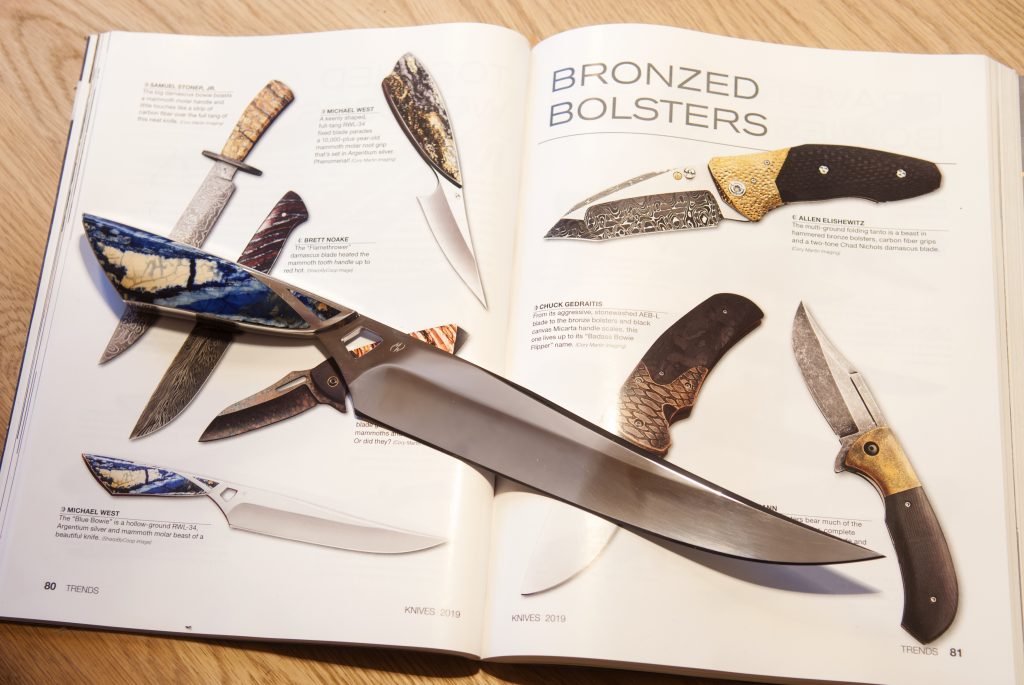 11/12 – 2018
I am proud to tell, my knife "Explosion" has been chosen to be on the 2019 cover of this legendary knife magazine.
Unexpected, and a great honor.
The book is available now, but the knife is sold to a US collector..
Here is what they write about my knife:
The two knives on the cover represent a few of the newest trends in knives….
Another hot segment represented is small fixed blades or hideaway knives, and in this case showcasing a trendy mammoth tooth handle.
The keenly shaped full-tang RWL-34 fixed blade by Michael West at right parades a 10,000-plus-year-old mammoth molar root grip that's set in Argentum silver.
There seems to be no limit to the knife styles, materials or imaginations of the makers. Phenomenal!